This morning (Saturday) David, his friend Marc and I went for a 13 mile ride up along a ridge that overlooks Topsham. Marc - who's from California originally - has been living in Topsham for 18 years or so and he rides a lot; the summer I rode across the country, Marc and his friend Nello were riding from Topsham to Venice to raise money for cancer research.
Nello was a Topsham restauranteur, a bon vivant (to the extent they can be found in England) and wonderful fellow, and last year he died after a difficult battle with stomach cancer diagnosed after his ride with Marc. He left his bike to Marc, and today I became the first person since Nello to ride it. It would have morbid, if it wasn't generally agreed that Nello would have wanted the bike to be ridden. In fact I felt honored. It was still bittersweet for Marc, though - he said it was strange to see that bike riding along next to him again.
We rode out of town and onto a mile-long climb up onto the ridge. It wasn't steep, but Marc is strong and we rode it pretty fast. Plus he kept me talking the whole way up and by the time we got to the top I was well out of breath. Luckily at the top there were some lovely views, affording a handy excuse for stopping briefly. Looking south we could see the English Channel; to the west we could see down into Topsham and to the hills that rise up behind it.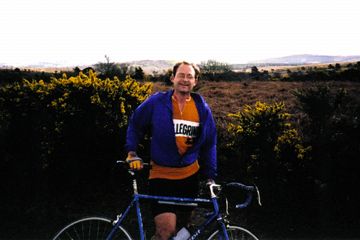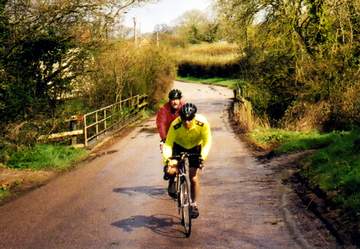 We'd set out in sunshine - dressing lightly for it - but clouds began to roll in as we climbed, and when we arrived on the crest of the ridge a light hail had started to fall. We rode on, expecting it to blow over quickly, but after another mile or two it really began to fall, larger than BBs. We followed the route downhill, and were soon moving at 25 or 30 miles per hour. The hail was heavy, hard to see through even if we'd been standing still, and at our speed it stung wherever it hit exposed skin. It was bad on my thighs but worse on my forehead, eyes and lips; I had to take one hand off the handlebars to hold over my eyes just so I could see.
We pulled off at a gas (petrol) station but it was too cold not to move so we pressed on. The hail got worse; all the single stings ran together to burn everywhere, like fire. Then just about the moment I was beginning to wonder literally how we were going to make it home through this, we happened onto a pub. We weren't sure it would be open so early in the day, but it was and we ducked in and ordered three cups of coffee.
We hadn't had time to get that wet, and warmed up quickly. In the few minutes it took to drink our coffee, the hailstorm had passed over completely and it was clear and sunny again. We finished the second half of the ride coasting down narrow, untraveled country roads, through tiny towns full of cottages with thatched roofs.
We agreed that it was probably the worst six or seven minutes of riding we'd ever done. I've ridden in far worse weather, but never so inadequately dressed. As wretched as it was, though, it was strangely invigorating; plus it gave us all something we could talk about for the rest of the day, trying out new adjectives to convey how thoroughly uncomfortable we were during those couple of downhill miles.
If I can drag myself out of bed tomorrow morning (we lose an hour to daylight savings, but my body has no idea what time it is), I'm going to go on a longer ride with Marc and a group he goes with once a week.
-- John