Main page / The Route / FAQs / Stupid signs / Aphorisms / Packing list / Links
<-- previous state / next state -->
---
Kansas
(May 13-19)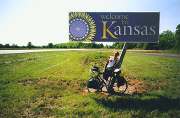 From the day we met in Kentucky, Rob and I talked about Kansas, fantasizing about tailwinds and 120 mile days in our last easy riding before the Rockies. Of course we knew that the wind and weather could as easily go against us, and we'd lose, not gain, time; but that uncertainty, the gamble, made us even more eager to arrive. For all our anticipation, however, we never thought much about actually being in the state; I guess we never got past the stock mental image of flat, fruited-plains monotony. The main attraction of Kansas seemed to be how quickly we would get through it, and so it is ironic that the place should make such a vivid impression.
Our route through the state wasn't complicated. We entered in the southeast corner near Pittsburg, an area not much different than western Missouri. On the second day we rode through the Flint Hills, a topographical and cultural anomaly where the land rolls and crests like immense ocean swells, and the residents raise cattle instead of wheat. Then it was flat. In flat Newton we camped in the city park and listened all night to freight trains being switched.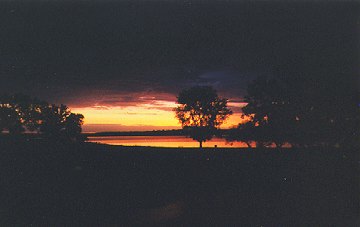 In flat Hudson (the physical midpoint of the entire trip) the delightful residents bought us drinks all afternoon and put us up in the Town Hall. Near flat Rush Center, we turned onto State Route 96 and stayed on that one road for four days, deep into Colorado. We'd suffered for our early-season departure with rain and chill in Virginia and Kentucky, but we were grateful in Kansas where, instead of July's high 90s, we enjoyed comfortable days mostly in the high 70s and low 80s.
We were right about the riding; it was uninteresting and utterly forgettable. There were signs of civilization everywhere -- fences, furrowed fields, irrigation equipment -- but between towns we might go 20 miles without seeing a building or a person outside of a car or hay baler. After a couple of days there weren't even any trees. We'd pedal eight or ten hours but nothing would change, not at all, so at the end of the day we'd be someplace new but with little recollection how we had got there. (And, once we were on our bikes there was little to do but ride; we wound up averaging 90 miles a day.)
Yet Kansas was great, a truly memorable place. The people were wonderful: Overtaking drivers pulled entirely into the opposite lane to pass. In a week we rarely bought beers for ourselves. Kansas was the only state where, if we paused on the roadside for a drink from our water bottles and a snack, people pulled over to ask if we were all right. The West began in Kansas; it was open, drier, higher. (Even in the plains we gained a couple dozen feet of elevation every hour and by the time we left the state we were at about 4,000 feet, higher than any point we reached in the Appalachians.) The landscape was fascinating despite its stupefying uniformity -- emptiness has a kind of mesmerizing beauty, and we stopped several times just to look out over it and try to take it all in. I really liked Kansas.
Here are a couple more notes and anecdotes:
-- State of confusion. Rob and I stopped for lunch at a restaurant in the Flint Hills, where we struck up a conversation with a couple who were curious about our adventure. At one point the husband asked what state we were each from and I answered (I guess a bit too cutely), that I wasn't from a state at all, but the District of Columbia. He brightened, nodded enthusiastically and said, oh yes, they loved Canada and liked to visit it every year.
-- Red beer. A lot of the beer in Kansas seems to be of the 3.2 variety (we figured that out one night somewhere around the fifth round) and to improve the stuff folks spice it up with tomato juice. The result is red beer, which is barely more palatable but it photographs well. This is, I guess, a literal example of "local color".
-- Wind. It is hard to talk about Kansas without mentioning the wind. It started each morning between 9 and 10 and didn't let up until dusk. One day it was smack in our faces, unremitting and constant (there is not much on the ground to slow it down or break it up) and in that way worse than any hill. Another day it came from behind and we made great time. Otherwise it blew from the south or north. Then it feels like a headwind no matter which way you're going, and makes holding a straight line a challenge. We didn't meet anyone on the trip, eastbound or westbound, who liked the wind in Kansas.
-- "Storm clouds gathering". It's a common enough metaphor, but I never really appreciated the literal phrase until I came to Kansas. Where I grew up (Michigan), we had our share of thunderstorms but you could always see them approaching from far on the horizon. In Kansas in May, thunderstorms are as inevitable as the wind, and they come literally out of nowhere. First the sky over your head becomes a little hazy, then clouds begin to form. Forty-five minutes or an hour later the clouds are large and dark, and you're in shade. The wind kicks up, followed by rain. If you're lucky, the rain is off to one side. If not, well, there is no shelter. After a while the storm is spent, and rather than blow away it just dissipates.
-- Hudson. Home to the Stafford County Flour Mills Company (producer of Hudson Cream Flour, among other well-known brands). Rob and I rode hard to get into town ahead of one of those thunderstorms. We made it by about ten minutes and waited out the rain in a bar. More free red beers. I chatted with a nice fellow named David Foos, who claimed to be the great great great grandnephew of the man who invented Foosball. The truth, or fun at the expense of gullible out-of-towners? I will probably never know.

| | |
| --- | --- |
| | |
Main page / The Route / FAQs
Stupid signs / Aphorisms / Packing list / Links

Page posted March 10, 1998