Main page / The Route / FAQs / Stupid signs / Aphorisms / Packing list / Links
<-- previous state / next state -->
---
Kentucky
(April 29 - May 6)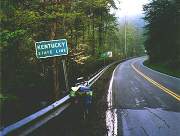 On April 29, I coasted downhill from Breaks Interstate Park, crossed the Kentucky line and rode into Elkhorn City, a town of about 900. Elkhorn City seemed smutty and gray, as though a thin layer of dust had settled onto everything. I thought at first that my glasses were just dirty but then I noticed the coal trucks, which were suddenly everywhere; the dust was real. I stopped for breakfast -- it was a measure of my increasing hardiness that the name "Rusty Fork Café" didn't start me wondering about my last tetanus shot -- and was served an omelet the size of a first baseman's mitt. The people in the restaurant spoke with accents so strong that I couldn't understand them when they talked fast. I had liked Virginia fine but was eager for a change and Kentucky was doing the trick in a hurry.
My route through Kentucky was pretty simple. I entered in the east about a third of the way up the state and rode west except for a bend north through the college town of Berea. After a week in Kentucky, I crossed the Ohio River into Illinois.
Kentucky was a delightful surprise, far friendlier and more interesting than I supposed it would be. It is a hard state to sum up, though -- it isn't southern (I guess it was a border state during the Civil War but the historical markers are written from the northern point of view), it's not northern (it's very unlike Massachusetts), it's not eastern and it's not midwestern. It's just Kentucky. Or perhaps more accurately, "Kentuckys" -- eastern Appalachia, the central bluegrass region and western Kentucky each presented a distinct character and terrain. Kentucky felt like three states rolled into one.
I lost my tentativeness in Kentucky. Up until then when people asked, wherever was I going on that heavy bicycle, I'd answer the Pacific Ocean but I scarcely believed it myself and I couldn't have been very convincing. But by Kentucky I had been on the road for nearly 800 miles, I'd negotiated the hardest hills the trip had to offer, and I wasn't feeling beat up at all. I was increasingly comfortable and confident on the bike, having developed a keener sense of how far I could get in a day, learning that complications like flats, bad weather and darkness won't ruin a day (well -- won't ruin a week), and coming to enjoy the uncomplicated routine of getting up in the morning and riding until the sun is low. I started camping, and changed time zones for the first time. The days were getting longer, warmer and drier. I liked Kentucky.
At my first overnight stop, Pippa Passes (home to tiny Alice Lloyd College), I met Rob Lovell, from Camden, Maine. Rob had started out in Richmond and was riding west on the Transamerica Trail, maybe to Colorado, maybe to the ocean. He'd been behind me for a couple of days, hearing about me at stores and post offices, and had been hoping to catch up. We sat up late drinking a pint of whiskey I'd bought earlier in the day (see "May 1: Oke & James") and trading stories about our respective adventures.
We were eager to start riding together but we would have to separate first; Rob's ancient rear wheel had disintegrated and he was having to wait a day for a replacement to arrive by overnight. I wound up riding another five days by myself, out of the mountains at last and into bluegrass country (soft rolling hills, bourbon, horses and money) and then western Kentucky (a little more agricultural but but hard to characterize; "a lot like southern Illinois", perhaps). Rob and I hooked up again a couple of days shy of Illinois and rode on and off together for the next three weeks.
Kentucky afforded sites and sights and prompted observations that deserve specific mention:
-- Appalachia. Mountainous and poor and with an economy resting on the twin pillars of coal and home tanning salons, this region called to mind the "hill country" of popular imagination. I rode for three days beside coal trucks (so many coal trucks!), past scores of mobile homes perched on tiny patches of flat land reclaimed from the narrow mountain hollows. I passed through towns with picturesque names like Lookout (it had no views so I took the name to be a warning), Melvin and Dwarf. The roads were often bad and sometimes treacherous -- the disarmingly innocuous sign "Break in Pavement" means that several yards of road and shoulder ahead have dissolved into a ditch and you'll disappear too if you don't move toward the center line. Litter wasn't unique to the area -- indeed I never managed to ride away from it anywhere in the country -- but eastern Kentucky won the Size and Weight categories hands down. Crushed cars, upended washing machines and shattered toilets were common in the valleys alongside the road.
Yet it was my favorite part of Kentucky. For all the crappy pavement and roadside junk, the area could be beautiful too. I had got used to climbing, and cresting each mountain was another small satisfaction. The people could not have been friendlier, both on and off the road. Every 10 or 12 miles I'd pass a small market and invariably there'd be a wooden bench out front occupied by two or three folks passing the time of day, and they'd call me over to chat a spell; I wound up stopping a lot more often than my stomach or legs really required. (I had not quite got over the mutual self-consciousness of photographing people and so I have nothing to show from these encounters, which I regret.) I had been a bit worried about taking up precious road space on the mountain roads but motorists -- even kids in mufflerless aging Camaros -- were patient beyond reasonable expectation.
-- Vestpocket cemeteries. Tiny cemeteries, some with as few as three graves, dotted the rural roadsides. At first I thought they were just artifacts from a time when people were born and died in the same place and were buried where they dropped, but dates on the headstones showed that they were still being established. They were well tended too, better than almost anything else in eastern Kentucky. Fresh (i.e. unfaded) plastic flowers adorned even the older stones.
-- Road food. The first couple weeks on the road I tended to stay on the bike and give myself an occasional caloric boost with one of the 20 or so Powerbars that friends pressed upon me when I left home. In Kentucky I just started stopping a lot. Fruit -- even apples and bananas -- was hard to find, though, and so I subsisted on Moon Pies. Also in Kentucky I began my obsessive watch for Dairy Queens, which are hard to find in DC but abundant in middle America's small towns. (Before letting loose that disdainful sniff, consider this from Greg LeMond, when asked what he missed most when racing in Europe: "Dairy Queen. God, I dream about Dairy Queens.")
-- Berea. Maybe it is just because the town coincided with the end of the mountains, but I liked Berea. Berea College, located here, was founded just before the Civil War expressly as a non-sectarian, integrated college for students from the Appalachian region. Most of the students pay no tuition, instead participating in the college's extensive work program.
-- Shaker Village. I spent three hours here one lovely afternoon. Founded in 1806, this town was at one point the third largest Shaker community in the United States. Shakers remained here (in about the middle of Kentucky) for a century or so, until the Industrial Revolution narrowed the economic advantages of their hard work and industry and sent the community into bankruptcy. Many of the original buildings, beautiful in that simple, elegant Shaker way, remain standing and have been restored over the last 15 or 20 years.
-- Bardstown. "Bourbon Capital of the World", home to the Oscar Getz Whiskey Museum and the annual Kentucky Bourbon Festival, Bardstown also features St. Joseph's Proto-Cathedral and the famous "Old Kentucky Home" immortalized in Stephen Foster's song. It was also the site of the world's first successful hip amputation (late 1700s); Bardstown is a don't-miss. Eventually I intend to say more about it -- check back for the link to "May 2: Derby Day in Bardstown".
-- Lincoln's Boyhood Home; Lincoln's Birthplace. We associate Lincoln so strongly with Illinois that it's easy to forget that he was born in Kentucky and spent the first few years of his life there. I took a shortcut one day, off the Transamerica Trail, and wound up riding by Lincoln's Boyhood Home. There's not much to it, just a 1930s reconstruction of the one room cabin (based on recollections of one of the Lincoln family's neighbors) and a gift shop, but it was a nice place to stop for half an hour. The best part about it is that it's kind of in the middle of nowhere and so except for pavement on the road that runs by in front, the setting is much the same as it was in the early 1800s. The creek in which young Abe almost drowned still flows quickly by, and the field which the Lincoln family planted is a meadow. I enjoyed contemplating how it all must have looked 180 years earlier, and it wasn't much of a strain on my imagination.
Lincoln's Birthplace, a few miles further up the road, is an elaborate thing run by the National Park Service and a disappointment by comparison. Oh, it was free (I had had to pay a buck to see the Boyhood Home) and there was the standard-issue informative visitor center, but the site has been landscaped and reconfigured so completely that you had to go look at the diorama to figure out what it looked like when the Lincolns lived there. The centerpiece of the park was an enormous marble and granite neoclassical memorial built on a hill with 75 steps leading up to it. The inside was empty except for a very bored guard and a log cabin that is no longer believed to be the actual birth cabin and so is merely old. It was all a bit too much worship and too little history for my tastes.
Main page / The Route / FAQs
Stupid signs / Aphorisms / Packing list / Links

Page posted September 29, 1997